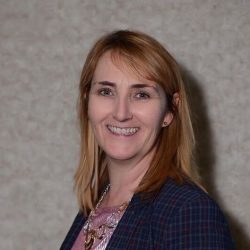 Dr. Veronica McInerney
RGN BNSc, H Dip Onc, MSc, Dip PM PhD
Background
Veronica's focus is to improve health outcomes through the delivery of clinical trials using the best clinical research standards.
Veronica's expertise lies in research project development and the management of all clinical research activities required to successfully execute clinical and translational research projects from both the 'sponsor' and 'site' perspective.
With a special interest in First in Man, Cell Therapy Research and Quality of Life research, enhancing the knowledge of future Clinical, Nursing and Scientific leaders is a core principle to Veronica's clinical and research practice. She teaches on undergraduate and post graduate courses in Nursing, MSc Clinical Research, MSc Regenerative Medicine and MSc Cell Manufacturing at NUI Galway and is co-author on several peer reviewed papers.
Current Role
Administrative Director, Advanced Therapies and Cancer Group, HRB Clinical Research Facility, University of Galway
Contact
Advanced Therapies and Cancer Group, HRB Clinical Research Facility, University of Galway